Sacrificing for our country
By: Ashley O'Connor - PFF Women's Administrator | Archives
MANILA, Philippines -- For those of you who don't know me, I'd like to take this time to formally introduce myself. My name is Ashley Marie Larrazabal O'Connor. I am the newest member of the Malditas as well as the new Women's Administrator of the Philippine Football Federation (PFF) . Although my name screams American, I was born and bred a Filipino. I was born in Iligan and grew up in the United States. I never silenced my desire to return to my homeland and represent the motherland by playing for the Women's National Team. Many can argue that maybe I'm not a true Filipino but I can assure you through my physical appearance, my Filipino mother, and my dedication and willingness to sacrifice, I am very much a Filipino at heart. Many people thought I was crazy for leaving my family, my friends , my job, not to mention my American salary, to come here. But what they didn't understand is a sense of nationalism that is deeply rooted in my Filipino soul. I arrived last December for a family vacati...
My year of being a Maldita
By: Belay Fernando - twitter: @belaylay | Archives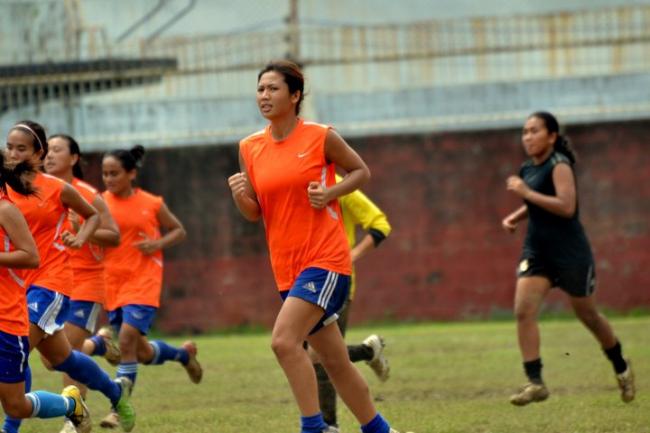 PHILIPPINES -- Last year was possibly one of the most difficult times of my life. I can't say much, but this was not your ordinary "I hate my life" situation. It was bigger than that. Suffice to say, it involved my family and a lot of rearranging of my time. My priorities had been reset. My focus shifted from my own to life to focusing on someone else's. But I didn't mind one bit. I had to do it. When things like this happen, it's hard not to feel defeated. To feel cheated and like life truly wasn't fair. It would have been easy to give up all together. But it certainly wasn't the case. The same time this happened, we were called to try-out and start training with the Philippine National Women's Team for the AFF Women's Championship in October of 2011. How easy would it have been to use my situation as an excuse to myself, to say I wouldn't have the time to train and push myself with everything going on in my life. Luckily, I don't like giving up. And luck...
Silencing our critics in 2011
By: Samantha Nierras - twitter: @samnierras | Archives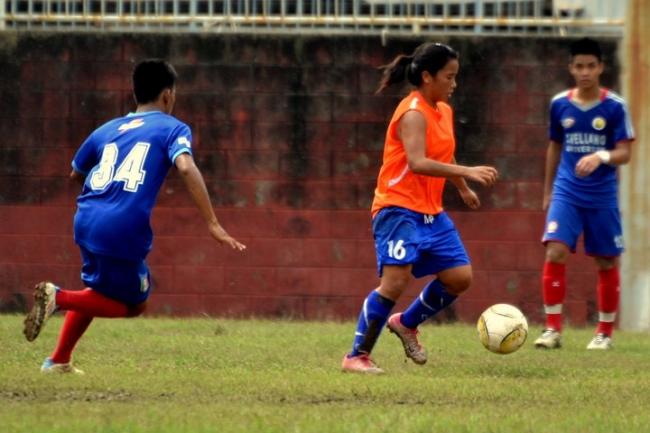 PHILIPPINES -- I have been playing for the Philippines since 2004. At age 14, I suited up as a member of the RP women's under-19 team. I was the youngest in the team and was a last minute addition to the line-up as the federation was undecided whether I was mature enough to handle the pressures of representing the country at such a young age. I suited up and immediately moved up to the senior team a couple months later. I've been with the Philippine women's national football team for seven years and I can honestly say that 2011 was an experience like no other. "Pilipinas Laban" has always been the battle cry of the team. Until, then, we felt that ''Laban'' just wasn't enough to express how we felt about the sacrifices we made, the blood we sweated, the obstacles we tackled. That's when my dad (coach Ernie Nierras) came up with "Battle and Bleed". For those of us who were senior to the team, the phrase hit a spot that could not be matche...
Bleed for country
By: Nikki Regalado - twitter: @nikkiregalado | Archives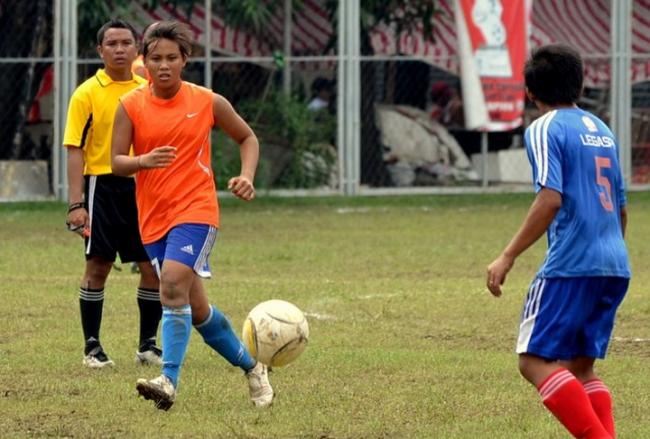 PHILIPPINES -- My day usually started with a 5 am LRT or MRT ride from España to the University of Makati (UMAK) thrice a week, sometimes even daily. Half asleep, I would often reflect on why I wanted to be part of the Malditas. Tears would actually accompany the one kilometre walk from EDSA to UMAK. It even tested my commitment, but it never waivered my resolve to be a Maldita. Several of the experiences highlighted our preparation for the annual AFF women's Championship. I will never forget the training sessions, which lasted 2-3 hours full of endurance, sprinting etc. Our coach even introduced us to a new concept of increasing intensity during training. We called it, Hard, Harder, Hardest…then PAIN! Before pain we were usually treated to something sweet and cold, like ice cream. It was like our last meal, before the main event. Later I found out that our coach gave us ice cream, to give us sugar for energy, and a little protein with our Gatorade. It made us absorb the electrolites faster. Whatever purpose it served? I hated ice c...
Battle and Bleed: A Captain's look back at 2011
By: Marielle M. Benitez - twitter: @mariellebenitez | Archives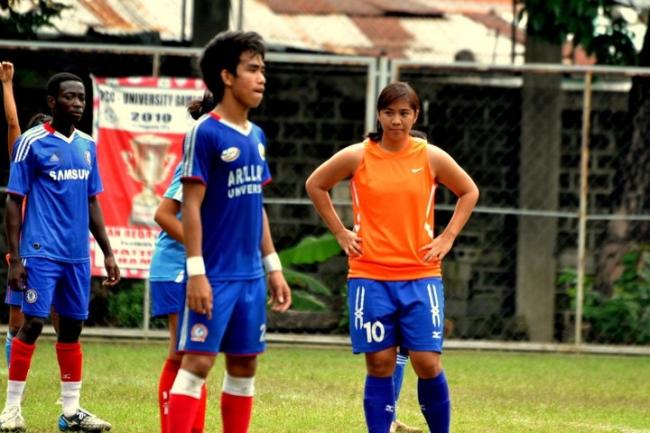 PHILIPPINES - IF my 2011 were to be summarized in three words, it would be "Battle and Bleed''. As the battle cry of the Malditas, "Battle and Bleed" defined who we were as a team as we prepared for our first ever tournament since 2008, the AFF Women's Championships in Vientienne, Laos. "Battle" meant competing against the best national squads of South East Asia like Thailand and Myanmar. It meant obstacles we faced as Malditas, from getting permission from the Universities to play for the squad, getting a training schedule where most are available, surviving the mental and physical demands of being a national athlete and playing at the highest competitive level we possibly could consider that out of 20 players, only 5 had international competition experience. "Battle" also meant obstacles and difficulties we faced as individuals. As the Captain Maldita, my "battle" meant balancing my work, obligations and activities with training and matches of the Malditas. It meant g...
Not too young to be a Maldita
By: Sabrina Nierras - twitter: @brinaaa16 | Archives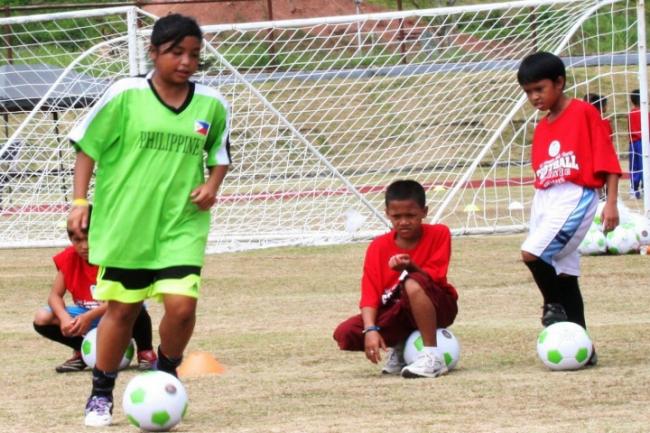 MANILA, Philippines -- Moving up to the seniors team wasn't something I thought I would be doing at this age, although it was something I wanted, I just never thought I was going to be good enough. Did you know that you miss 100% of the shots you don't take? I could have let my biggest dream slip away because I was afraid, afraid of not being good enough. I still dream of the day that I get to play with my sister and we both represent the national team, I may not be doing it in the next tournament but I know that in a few months I will. When I was 12, I played for the U-16 national team. The tournament was held in Malaysia. We played 4 games which totaled to 360 minutes and I played less than 10 minutes. To be honest, I cried. I felt like I wasn't good enough and that going there wasn't worth it. People told me that it was okay because I was still young and I had a long way to go. They were wrong. Your age does not define who you are or what you can do! I'm 15 and I train with girls and guys a lot older than me, but that doesn&...
My Malditas Journey
By: Olivia Schmitt - twitter: @olivia_schmitt | Archives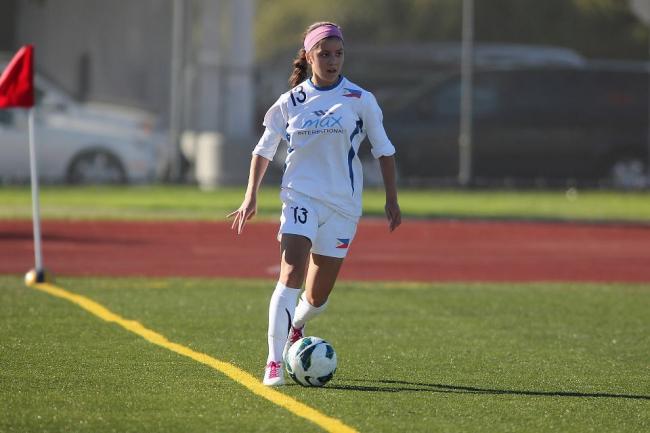 My journey with the Malditas began when I received an invitation letter to attend their US training camp in Los Angeles in mid-November. It is hard for me to describe what a big deal that was to me. I was so excited by the opportunity to represent the Philippines and meet girls who share the same heritage and love for the game as I do. I could not wait to go to LA for camp, especially since it was finally a trip my mom could take with me. My dad has traveled with me to most of the long distance tournaments in my soccer career, while my mom has always stayed home with my younger sister and brother. So, this was already a special trip for me before I ever stepped on the field with the other girls. Going into the camp, I was a little nervous, of course. But, this amazing opportunity was something I knew I would remember forever and there was no way I was going to miss it. So, I jumped in head first! We flew in a couple days late for the camp because I couldn't miss too much school before Thanksgiving break. I met Coach Ernie Nierr...
My Experience Playing With the Malditas
By: Rachel Nichols - twitter: @china_d0LL_8 | Archives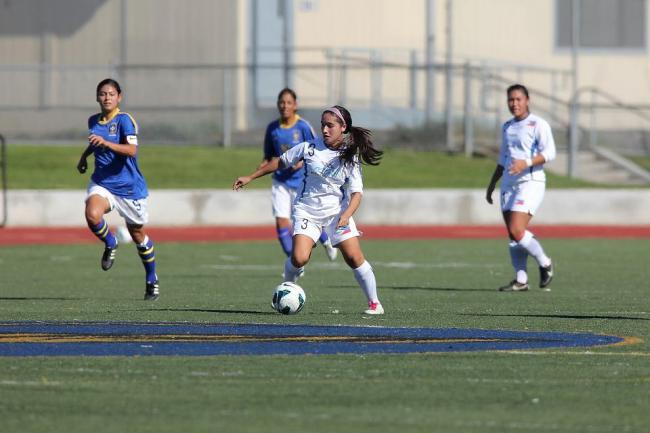 (Photo taken by Chris Cordero) One day in mid-October, I was browsing through my e-mails as I do every day. I was shocked when I stumbled upon a forwarded e-mail from my college coach with the subject line, "Philippine Football Federation – Women's National Team (Soccer) – Rachel Nichols." I immediately opened the e-mail and read its contents to discover it was an invitation to participate in the upcoming Philippine Women's National Team Training Camp in California and a chance to compete in the LA Vikings Cup with the team. After reading the e-mail, there were so many emotions I was feeling and so many questions running through my head. I felt excited, happy, nervous, honored, and grateful. But I was also confused—how did they find me? How did they know I had Filipino heritage? Soon I would learn that thanks to excellent scouting, I was just one of many girls who were found and invited to the camp. The camp was to take place in mid-November, and unfortunately I had exams that could...